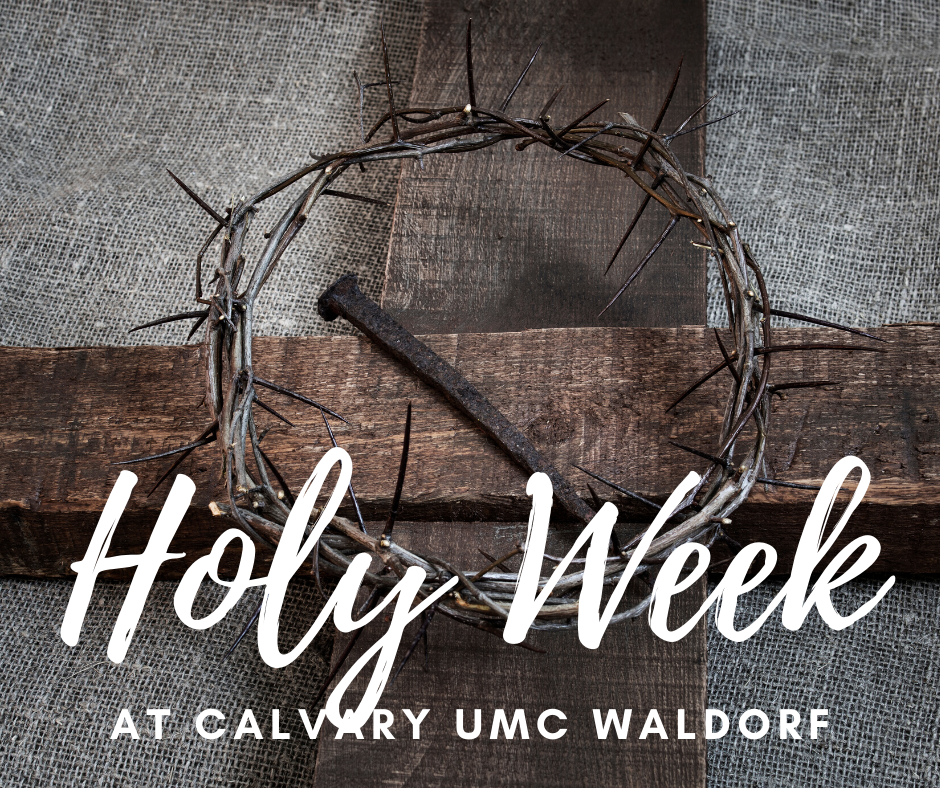 Saturday, March 28—Friday, April 10
STATIONS OF THE CROSS
One of the 14 stations of the cross will be sent daily via email, as well as posted on Facebook. Each station will include a photo for reflection along with the Biblical text for that station. These 14 stations make up the Scriptural Way of the Cross, approved by Pope John Paul II in 1991. This list differs from the original Stations of the Cross, which included several scenes not included in standard Biblical texts. Many Protestants, including United Methodists, have since adopted this list of 14 stations as a tool for Lenten (and especially Holy Week) reflection.
Sunday, April 5
PALM SUNDAY
10:00 a.m. ONLINE WORSHIP (ZOOM live, video posted to Facebook by 12 pm)
Join us for this special service, with various readers walking us through not only Jesus' triumphant into Jerusalem, but also venturing into the closing scenes before Jesus' crucifixion.
WEB LINK
https://zoom.us/j/274410154
or
CALL IN
+1 301 715 8592 US
Meeting ID: 274 410 154
Thursday, April 9
MAUNDY THURSDAY
DINNER WORSHIP: A simple service order is being provided that we invite you to use while you sit at table for dinner, either with family in your home, or even calling a friend, family or neighbor to do so via call or conference call! We are invited to use the liturgy created by Rev. Sarah Are, via A Sanctified Art. A Sanctified Art are the creators of the liturgy (themes, calls to worship, prayers) we have been using during this season of Lent.
This document is available here: https://static1.squarespace.com/static/575b394d45bf211e060c93fc/t/5e7e8616b042e9754b41315f/1585350168748/SA_athomemaundythursday.pdf
Friday, April 10
GOOD FRIDAY
3:00 p.m. ONLINE WORSHIP (ZOOM live, Video posted to Facebook by 5 pm)
This service will be a time of contemplation, prayer and reflection as we remember Jesus' crucifixion and death.
WEB LINK
https://zoom.us/j/641071316
or
CALL IN
+1 301 715 8592 US
Meeting ID: 641 071 316
If you aren't able to join us live at 3 pm, we hope you'll tune into the service on Facebook after it's posted!
Sunday, April 12
EASTER
SUNRISE SERVICE (liturgy provided for home service)
10:00 a.m. ONLINE WORSHIP (ZOOM live, posted to FB by NOON)
We are so excited to celebrate Jesus' resurrection together! Let's lift our voices, offer praise and give God glory for new life in Christ!
WEB LINK
https://zoom.us/j/274410154
or
CALL IN
+1 301 715 8592 US
Meeting ID: 274 410 154